3D Models
Over the course of designing, 3D modeling has been an extremely helpful tool to communicate a vision to peers or clients. Below are a broad spectrum of models I've done with a variety of purposes in mind for clients/ partners or myself.
More models can be found HERE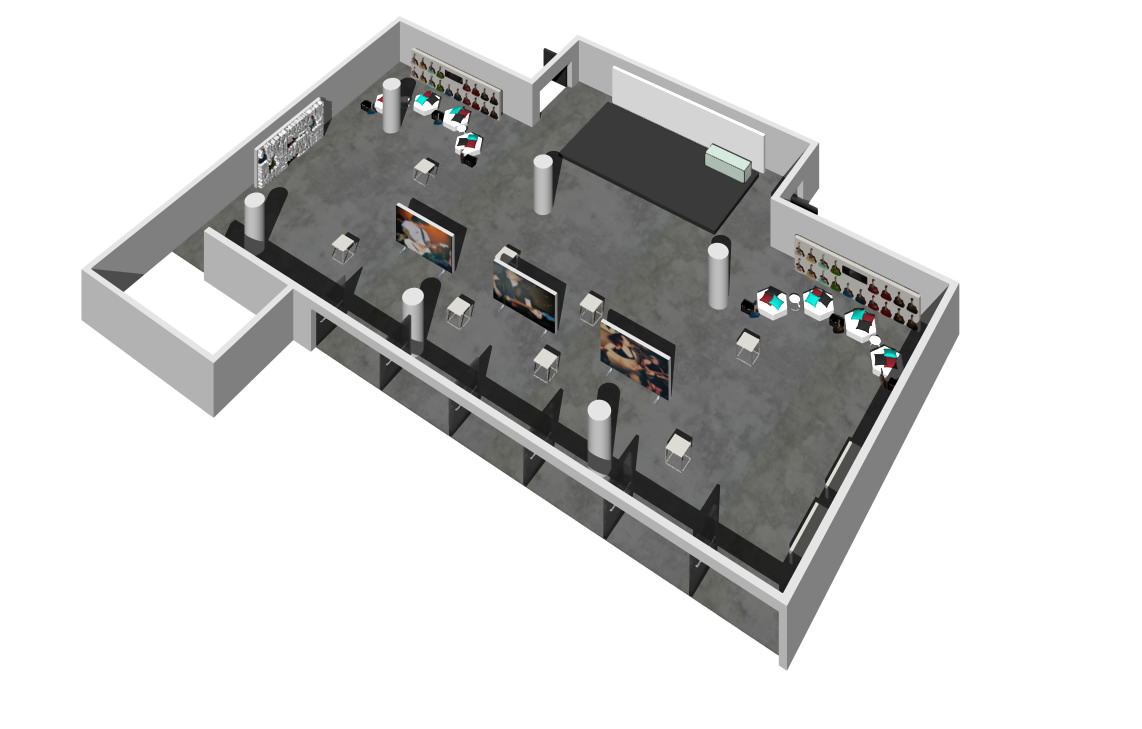 Fender California Series Launch Party - The Broad Collective - 2018
Partnering with The Broad Collective, I was tasked with helping create renders of the gallery space for the Fender California Series Launch Party. These assets were used to pitch the concept to fender in order to sign off on the vision and visuals of the event. The event was an invite only party with a media day as well as a concert day with performances by Misterwives rounding out the event. Event photos by Getty Images
Cruzan Rum - Evolve Concepts - 2018
We were tasked with creating a mobile pop-up bar that reflected the character and vibrancy of the Cruzan Rum distillery while utilizing components salvaged from the distillery as well. The goal was to create a fluid welcoming and warm space that promoted gathering. This concept influenced color choices as well as the bar shifting to a circular design. After several rounds of tweaks and variations (seen right), we landed on concept which is currently in the build phase and will be hitting the festival scene this summer. The barrels and tin roof seen in the render is being made from elements imported in from St. Croix, Virgin Islands.
Air BNB Expo Booth - ESP Presents - 2018
Partnering with my friends at ESP Presents, I was asked to help create some renders as well as layout options for Air BNB for Business. The renders were used to pitch the layout and aesthetic to the clients as well as for them to envision what the space, artwork and scale would look like. In the end, the space build was near identical to the renders.
Bud Light Bottle - Firefly Music Festival - 2017
In 2017, the Red Frog Events design team had an opportunity to design a custom bottle for Firefly Music Festival with Bud Light. As the graphic design team started to finalize the design, we needed a method to see how the graphic would lay and bend around the unique shape of an aluminum bottle. I created a bottle design off of the spec sheet we received and manipulated the graphic from our designer. This model was also used by Bud Light to present to their internal team and later to their Executive team for final approval on the design before production.
VIP Loft - Firefly Music Festival
The festival was in need of a large viewing structure for VIP's to watch the show comfortably while fitting into the landscape. This 14,000 sqft loft was created and the model was used to get exact placement and viewing angles. This model had to be accurately laid out as it was used to layout site lines so build of it could start without the festivals main stage being in place. It was also used to market private cabanas to super VIP clients prior to their completion.
Pipeline - Warrior Dash 5k
Pipeline was one of the more visually appealing and unique obstacles. It utilized circle cargo nets as well as heavy, eye catching, branding. This model was used to market the obstacle and race to runners prior to its build. We also used it to test various styles of branding and colors.
Tiny House Exploration - Ideation Phase
A developer approached a contractor friend of mine with the idea of building a tiny house subdivision. During the Developers bidding process, we utilized quick models like this to pitch initial design thoughts. By allowing the developer to navigate and interact with the model, we were able to get better, more clear feedback. We are currently working through more finished designs for this project.